Horse Drawn Wagons, Buggys, Carriages, Buckboards, Chuck Wagons, Stage Coach, Spring Wagons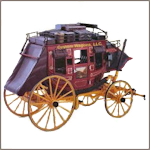 Horse Drawn Wagons, Buggys, Carriages handmade. Buckboards to a Surrey, Spring Wagons to Chuck Wagons, Stage Coach to a Hearse, Yesterdays Horse Drawn Wagons, Handmade in America Today, in any size or type of horse drawn wagons or wagon wheels.
Our Wagons, Buggys and Carriages are horse drawn ready which will provide you with many years of quality service. Horse drawn wagons, buggies, carriages, or a real full size stage coach at Custom Wagons can make your project come alive. From Spring Wagons to Buckboards, Dr. Buggy's to a new Hotel Surrey.
For further assistance please Contact Us.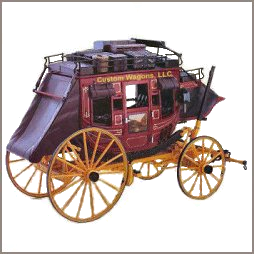 You will find our Custom Wagons, Buggy's and Carriages in the movies, parks, and even on Broadway. We Offer quality Wagons, Buggy's and Carriages, even a Horse Drawn Hearse. If you are looking for a specific item, please Contact Us. Construction time will vary depending on our work load at the time of your order and can be up to six months.
We are a family owned and operated business, located in Southern Arizona and also ship from Eastern Pennsylvania. You will find our wagon wheels In the movies (Paramount, DreamWorks, Warner Brothers Pictures, Disney, Turner Films), on TV (Trading Places, Into The West, Myth Busters), on the beach at resorts, in university theater groups and major theme parks (Disney, Six Flags, Silver Dollar City, Kennywood, Tweetsie Rail Road) across America.
Custom Wagons, Full Size:

Click On A Picture To View A Large Image And Information
25 - 30 Passenger Wagon
Options And Style

Passenger wagons can be set up to be pulled by horses or tow vehicle and can carry 25 - 30 passengers. Available with:

Surge Breaks
Larger Tires
Canopy
Lighting
Choice of Seating

As our name implies, we custom build wagons to fit the customers needs. For a complete list of options on our 25 - 30 passenger wagon, please contact us.
15 - 20 Passenger Wagon
16 Ft. No Canopy

This 15 - 20 passenger wagon was built for State of Kentucky 4H.

Available with:

Surge Breaks
Larger Tires
Canopy
Lighting
Choice of Seating
Some Of Our Other Products:

Carriage Wheels - Buggy Wheels, made from quality hickory wood with a powder coated metal hubs. These carriage wheels are real working wheels, yet can be used for decoration; replacement carriage wheels are used on carriages, Amish buggies and buggy's around the world. These Handmade Carriage Wheels are Horse Drawn Carriage Wheels, Bearings and axles for these carriage wheels come in many different sizes and are made to the customers specifications.

Wood Butter Churns - Wood Buckets, Take A Trip Back In Time.... Both adds a country accent to your home. Like all of our churns or buckets, it is a replica of old style used on the American frontier and in farm houses throughout the US. Sanded smooth white pine staves and hoops that are fastened by copper nails. Add a great country or antique accent, or unfinished, it makes a project for painting or stenciling to add your own personal touch.
&nbsp

Wood Wheelbarrow, Handcrafted and Works in your garden or yeard, quality workmanship to insure years of service. This wheelbarrow is constructed of solid wood with steam bent wooden wheel and steel rim. The sides are removable for oversized loads or for more decorating options. Great for seasonal yard or porch decoration, fill with pumpkins and corn in the fall, fill with plants in the spring and summer, or use for general landscaping.
&nbsp

Cannon Wheels made of hickory wood and designed to look like the civil war era cannon wheels. These wheels are extremely strong and solid, designed and dished for working cannon use. If you plan on rolling your cannon wheels around or pulling your cannon, your cannon wheels will require a bushing inserted into the hub, the price of the bushing includes truing so the wheel runs true and epoxying the bushing inside the hub. Axles are available for all of our Cannon Wheels.

Butter Churn Lamp, you do not have to buy a wagon wheel chandelier to enjoy a light from yesterday with our butter churn lamps. We have a large selection of cloth shades available for all the lamps we make for the butter churn lamps to our wagon hub lamps Our butter churn lamps are made from the butter churns found in our online store, Our butter churn lamps can be used to add that rustic, country, or western decor to any room or landscape.