Abraham Lincoln Hearse
Wagon Wheels for The Abraham Lincoln Hearse. Yesterdays Products, Handmade In The USA Today.

Abraham Lincoln Hearse, 150th Anniversary Springfield, IL
THANK YOU to the citizens of Springfield, IL for their kindness and hospitality and especially to the Staab Family without whom this project would never have existed. Custom Wagons built the Wagon Wheels for the Abraham Lincoln Hearse and was one of the build teams of Combat Veterans for the reconstruction of the Abraham Lincoln Hearse and the celebration of the 150th Anniversary of his burial in Springfield's Oak Ridge Cemetery.
Thank you not only to the City Of Springfield, but all the Downtown Merchants and Siciliano, Inc. for the Billboard banner that was placed thanking the build team of Combat Veterans.
The problem was that the original hearse had been retired after it was used for the Abraham Lincoln funeral. The hearse itself was stored on the second floor of Lynch & Arnot livery company, where it was destroyed in a massive Feb. 9, 1887, fire that killed three people and about 200 horses.
There was only one picture that existed of the original hearse, so all the information about the original hearse needed for the reconstruction of the new hearse, had to be extrapolated from that one existing picture.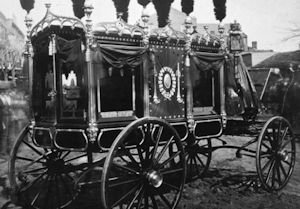 The above photo was the only picture that survived history of the original Abraham Lincoln Hearse. There are a number of people to thank besides the three teams that worked on the reconstruction of the new hearse. Two are David Spencer and Justin L. Fowler of The State Journal-Register who took most of the pictures you see here. David's and Justin's interpretation of the celebration of the 150th Anniversary and the photos of the new Abraham Lincoln Hearse are absolute spot on.
REENACTORS WITH THE ABRAHAM LINCOLN HEARSE
In case you are not aware, reenactors take their roles very seriously. Dealing with cannons I have had some contact with reenactors, however, I was not aware of how serious they were until Springfield. Not only do they spend a lot of money to make sure their costumes are period correct, the same is true for everything.
As an example, you will find below a picture of William Polston, age 11, of Minneapolis, MI. He is serving as a pallbearer walking next to Lincoln's hearse in the funeral procession during the 2015 Lincoln Funeral Re-enactment. Polston is a descendant of Stephen Trigg Logan, one of the original pallbearers that walked along side Lincoln's hearse. Each of the pallbearers walking beside the hearse is a descendant of the original pallbearers of the original funeral.
RECONSTRUCTION OF THE ABRAHAM LINCOLN HEARSE
Click On A Picture To View A Large Image
Some Of Our Other Products:

Carriage Wheels - Buggy Wheels, made from quality hickory wood with a powder coated metal hubs. These carriage wheels are real working wheels, yet can be used for decoration; replacement carriage wheels are used on carriages, Amish buggies and buggy's around the world. These Handmade Carriage Wheels are Horse Drawn Carriage Wheels, Bearings and axles for these carriage wheels come in many different sizes and are made to the customers specifications.

Wood Butter Churns - Wood Buckets, Take A Trip Back In Time.... Both adds a country accent to your home. Like all of our churns or buckets, it is a replica of old style used on the American frontier and in farm houses throughout the US. Sanded smooth white pine staves and hoops that are fastened by copper nails. Add a great country or antique accent, or unfinished, it makes a project for painting or stenciling to add your own personal touch.
&nbsp

Wood Wheelbarrow, Handcrafted and Works in your garden or yard, quality workmanship to insure years of service. This wheelbarrow is constructed of solid wood with steam bent wooden wheel and steel rim. The sides are removable for oversized loads or for more decorating options. Great for seasonal yard or porch decoration, fill with pumpkins and corn in the fall, fill with plants in the spring and summer, or use for general landscaping.
&nbsp

Cannon Wheels made of hickory wood and designed to look like the civil war era cannon wheels. These wheels are extremely strong and solid, designed and dished for working cannon use. If you plan on rolling your cannon wheels around or pulling your cannon, your cannon wheels will require a bushing inserted into the hub, the price of the bushing includes truing so the wheel runs true and epoxying the bushing inside the hub. Axles are available for all of our Cannon Wheels.

Butter Churn Lamp, you do not have to buy a wagon wheel chandelier to enjoy a light from yesterday with our butter churn lamps. We have a large selection of cloth shades available for all the lamps we make for the butter churn lamps to our wagon hub lamps Our butter churn lamps are made from the butter churns found in our Online store, Our butter churn lamps can be used to add that rustic, country, or western decor to any room or landscape.